Baked teriyaki salmon with stir fried vegetables and fried rice. Directions In a glass baking dish combine the teriyaki sauce, sesame oil, ginger and garlic. Add the salmon cubes and toss to coat. If using other hard vegetables like broccoli and carrots slice into small bits and stir-fry BEFORE the salmon until partially cooked.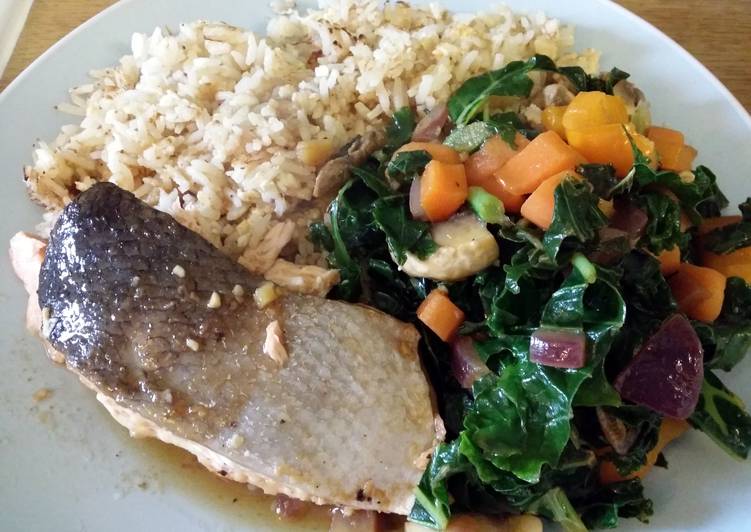 Push to one side and cook the eggs until fully set. Get the best of land and sea, East and West with this combination of World Dock® Salmon, Ridgecrest® Bacon, Asian Pride® Soy Sauce and fresh veggies. Salmon is a fast dinner, highly nutritious, and certainly versatile enough to take on the tangy sweetness of the teriyaki and the bed of colorful fried rice. You can have Baked teriyaki salmon with stir fried vegetables and fried rice using 24 ingredients and 13 steps. Here is how you achieve it.
Ingredients of Baked teriyaki salmon with stir fried vegetables and fried rice
It's of Salmon marinade.
You need 2 of Salmon fillets.
Prepare 50 ml of soya sauce.
Prepare 50 ml of mirin.
Prepare 2 tbsp of honey.
You need 1 tsp of garlic paste.
You need 1/2 tsp of ginger paste.
Prepare 1 of Salt and pepper to season.
Prepare of vegetables.
It's 1 bunch of kale.
It's 2 medium of carrots (diced).
Prepare 1 small of onion (diced).
You need 6 of mushrooms (cubed).
Prepare 1 of pepper (diced).
It's 1 dash of sesame oil.
It's 1 dash of lemon juice.
You need 2 tbsp of oil.
It's 1 of pepper for seasoning.
It's of Fried rice.
It's 1 cup of Cold cooked long grained rice.
You need 2 tbsp of oil.
It's 1 tbsp of miso paste.
It's 2 tbsp of Hot water.
You need 1 of egg.
Enhance the presentation with julienned green onions, multi-colored sesame seeds, or. Make the fried cauliflower rice: place a large frying pan over medium-high heat. Divide the stir-fried vegetables among plates. Top with the teriyaki salmon and sprinkle with the sesame seeds and the remaining spring onion.
Baked teriyaki salmon with stir fried vegetables and fried rice instructions
Mix the salmon marinade in a bowl and add the salmon fillets..
Marinade the salmon at room temperature for at least 30 minutes..
Preheat oven to 300°F (fan).
Place salmon fillets in kitchen foil on a roasting tin and loosely seal the edges (leave some edges open)..
Place the salmon in the oven for 20 minutes (depending on size of fillets)..
Whilst salmon is in the oven add oil to a pan until hot and fry the vegetables together until soft but still has a crunch..
Add lemon juice stir the vegetables and turn off the heat..
Add oil to another pan and add the cold rice and fry until the rice has softened..
Mix the miso paste in hot water until dissolved and pour the paste into the rice. Mix the paste into the rice until even..
Add the egg to the rice. Fry until cooked and evenly distributed..
In the last 5 minutes before the salmon is ready turn the heat back on and add the kale in the stir fry and add the sesame oil..
Fry the kale until it has softened but still has a crunch. Add pepper to season..
Serve the salmon, vegetables and rice together..
Tips for fussy eaters Reserve some of the fish and vegetables, and prepare a mild stir-fry for them. Meanwhile microwave the rice according to packet instructions. Swap out the broccoli, carrots, and bell pepper for other vegetables, such as bok choy, cauliflower, parsnip, turnip, etc. Serve stir fry with choice of cauliflower rice, regular rice, rice noodles, etc. if desired. I like to eat the stir fry as is with no additional side dishes.