Chicken Macaroni Soup (Sopas).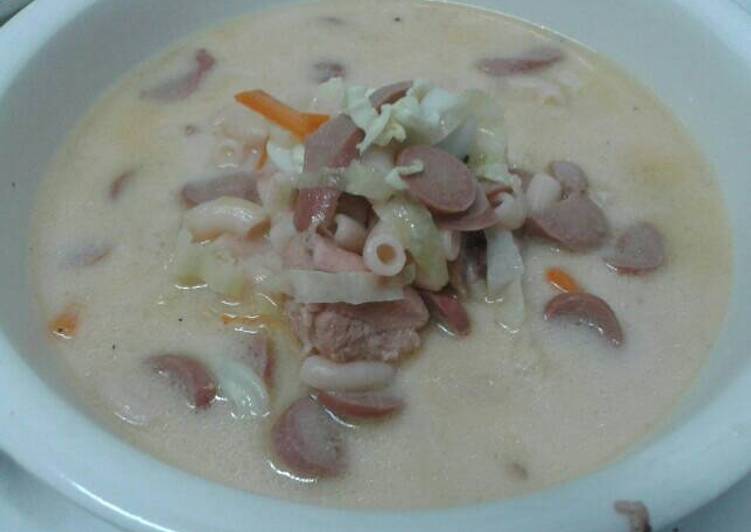 You can have Chicken Macaroni Soup (Sopas) using 16 ingredients and 9 steps. Here is how you cook it.
Ingredients of Chicken Macaroni Soup (Sopas)
You need 1/2 kg of chicken (Thigh part or wings).
It's 1/2 kg of macaroni pasta (any shape is fine).
You need 5 pieces of hotdog (any kind of it depends on your taste).
Prepare 20 of quail eggs (optional) or 8 regular egs.
You need 1 stick of butter.
Prepare 1 of carrot.
You need 2 cloves of garlic.
Prepare 2 of red onions.
Prepare 3 cups of milk.
You need 1 of quarter of a cabbage.
You need of olive oil.
Prepare of fish sauce.
Prepare cube of chicken stock powder or chicken.
You need of salt.
You need of black pepper.
You need of sugar.
Chicken Macaroni Soup (Sopas) instructions
First prepare and chop the ingridients. Mince the garlic and onion while thin slices for the carrot and cabbage, for the hordog just slices them horizontaly.
On a small pot boil the quail eggs for about 5 minutes you can replace quail eggs with regular eggs.
Prepare the chicken, as you can see i use the thigh part and wings because its much better for making a soup base than the breast part.
Put some olive oil and saute the garlic and onion until fragrant then add the chicken and butter, season with salt and pepper, cook for about 10 minutes in medium heat. Flip or stir to cook evenly.
Add the hotdogs and let them cook for another 5 minutes dont forget to stir them to cook evenly..
Add the hot water and season with salt, pepper, fish sauce and sugar you can adjust depends on your taste and also add the chicken powder or cude to give that extra flavor on our soup base then let it boil on high heat for about 15 minutes (lid is on).
On this part i add some hot water again because i noticed that water had been reduced and it need more water for the macaroni pasta. Boil for 10 minutes and add the carrots and macaroni (lid is on).
Once the macaroni is already cooked add the milk, quail eggs(sliced or whole) and the cabbage then simmer for about 2 minutes.
Serve and enjoy your food guys ☺.