Salmon cakes. Pick through the salmon and remove any bones. In a mixing bowl, beat the eggs and add the diced onion, salmon and pepper. Add eggs, parsley, green onions, dill weed, lemon juice and black pepper.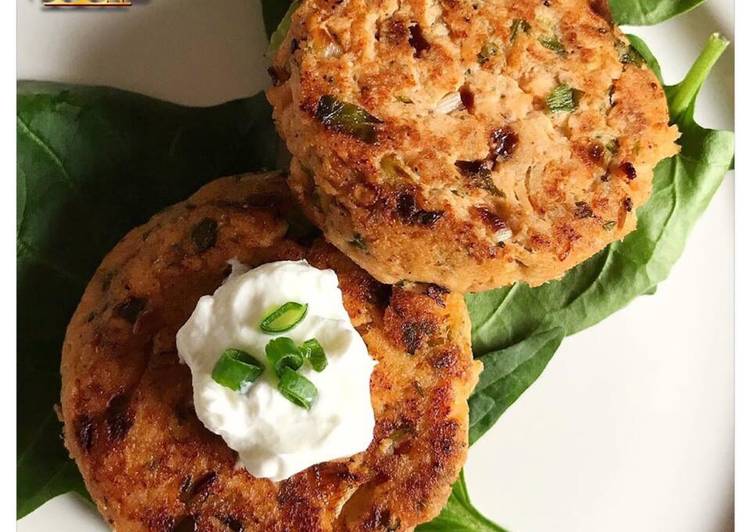 How to serve these salmon cakes. They make a quick, easy meatless entree. I serve them for dinner with a dollop of homemade tartar sauce, keeping the sides very simple. You can cook Salmon cakes using 14 ingredients and 11 steps. Here is how you achieve that.
Ingredients of Salmon cakes
Prepare 250 gm of salmon fillet.
Prepare 1/4 cup of spring onion, finely chopped.
It's 2 of eggs.
It's 1& 1/2 tbsp of sour cream.
It's 2 &1/2 tbsp of bread crumbs.
Prepare 1/2 tsp of garlic powder.
You need 1/4 cup of coriander leaves, finely chopped.
Prepare 2 tsp of red chilli flakes.
It's 1/2 tsp of paprika.
It's 1/4 tsp + extra of black pepper for salmon fillet.
Prepare 2 tbsp of olive oil.
It's 1 tbsp of worcestershire sauce.
Prepare 1/2 of lemon juice.
You need to taste of salt.
I like to serve them with caprese salad, with microwave cauliflower drizzled with olive oil and lemon juice, or with broiled tomatoes. Drain on paper towel lined plate. Scrumptious Salmon Cakes Haiku: "Close as I could get, had to make some little swaps, still they were quite good." Subbed a couple tsp. of dry parsley for fresh, and lite Duke's mayonnaise for Miracle Whip, otherwise, did every other ingredient as directed. I doubled the recipe ingredients, and used one fourteen and a half oz. can of pink salmon).
Salmon cakes instructions
Preheat oven at 220 degree centigrade. Line a baking pan with aluminium foil.
Season salmon fillet with salt and pepper on both sides. Place the fillet in the baking pan and bake for 7-8 minutes..
Remove from oven and immediately cover the cover the fillet with another piece of aluminium foil, let rest until completely cool..
In a bowl flake the salmon salmon until completely shredded..
Add the remaining ingredients except olive oil,mix well. Adjust seasoning accordingly..
Divide the filling into equal portions;form into 1/4" patties..
Cover and refrigerate for 30 minutes..
In a frying pan add olive oil; heat on a medium low flame..
Gently place each patty in the oil and cook on each side for 4-5 minutes until golden brown on each side..
Remove and serve hot along with a sauce of your choice..
Make 8 small patties..
If you use canned salmon, be sure to omit the additional salt, and to press out all liquid from the salmon. If salmon cakes brown too quickly, reduce heat. Remove to a paper-towel lined plate. We can't get enough of these flavorful patties! They're the perfect way to upgrade a simple can of salmon.