Feta, smoked salmon and courgette pie. Once done, assemble the pie in layers, starting with the ricotta cheese filling, adding some smoked salmon over and then finishing up with the sautéed zucchini, before baking in the oven. Cook gently in a little oil on both sides until brown. Roll pastry out into a small round baking tray.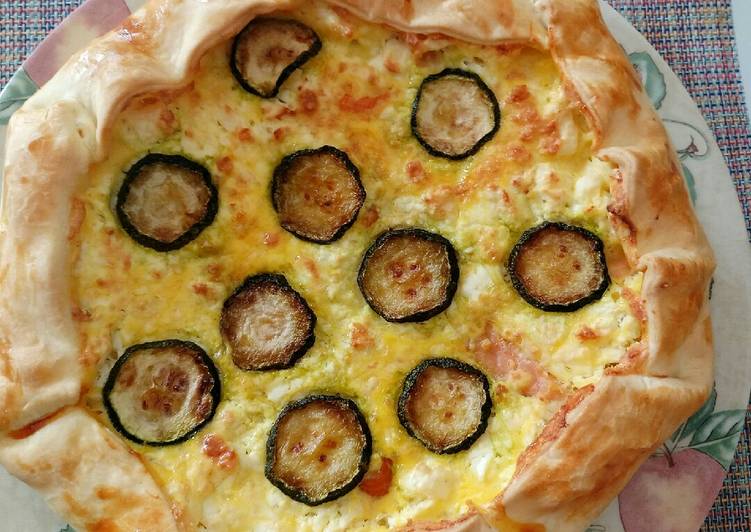 Heat a little olive oil and fry courgette till coloured, adding a bit of salt. Line a tart pan with the puff pastry. Cover with courgette and salmon, alternating the two. You can have Feta, smoked salmon and courgette pie using 6 ingredients and 3 steps. Here is how you achieve it.
Ingredients of Feta, smoked salmon and courgette pie
It's of Roll of pastry.
Prepare 150 g of smoked salmon.
Prepare Half of a courgette.
Prepare Packet of feta cheese.
You need 2 of beaten eggs.
You need of Olive oil.
In a bowl whisk eggs, crème fraîche and milk. Stir in basil and add salt and pepper. One of them was this Salmon Zucchini Quiche. I wanted my quiche to be flavorful and economical.
Feta, smoked salmon and courgette pie step by step
Preheat oven to 180. Prepare your ingredients. Wash, dry and slice courgette. Gently cook in a little oil until golden brown on both sides, set a side..
Roll out the pastry onto a round medium sized foil tray. Prick with a fork. Slice the salmon and add on top..
Now crumble feta all over and add the courgette. Pour over the beaten eggs, save a tiny bit for final glazing. Fold the edges over and glaze the top with the small remaining amount of egg. Bake for about 25-30 mins until golden brown. Leave to cool on a wire rack and enjoy.
And this quiche meets all the requirements. The zucchini adds texture and the goat cheese brings it all together with an unexpected sweetness. Salmon Quiche is lovely made with fresh salmon, even better with hot smoked salmon but you'll knock it out of the park with smoked salmon!! The filling is super easy to make so it really comes down to the crust – ready made pie shell, store bought shortcrust pastry or homemade quiche crust. This will fill you full of the joys of spring!