Vickys Roasted Butternut Squash & Parsnip Soup GF DF EF SF NF. I have roasted butternut squash for vegetable soup recently but I had purchased one from the local farmer's market and needed a side dish with some (soy sauce/lemon juice/garlic/brown sugar) marinaded chicken breasts I planned on grilling. I removed the skin of the squash and then cubed it. Then I tossed it with the fresh ground pepper, drizzle.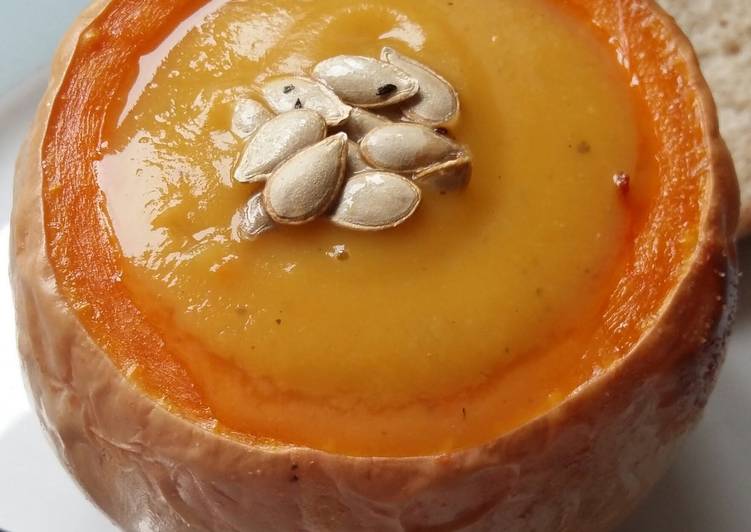 Served on a cripsy, freshly fried homemade shell, these roasted chicken-butternut squash tostadas are piled high with an assortment of delicious toppings. Three Bridges Butternut Squash Ravioli makes a great base for this platter of roasted cauliflower and brown butter sauce with walnuts and crispy sage leaves. The simple but rich brown butter sauce sings without overwhelming the flavor of the butternut squash in the ravioli. You can cook Vickys Roasted Butternut Squash & Parsnip Soup GF DF EF SF NF using 8 ingredients and 9 steps. Here is how you cook that.
Ingredients of Vickys Roasted Butternut Squash & Parsnip Soup GF DF EF SF NF
You need 1350 ml of good vegetable stock.
It's 2 of butternut squash, cubed – bulbous parts reserved.
Prepare 3 of parsnips, cubed.
You need 2 clove of garlic, unpeeled.
Prepare of olive oil.
You need of salt & pepper.
It's 1 tsp of mixed herbs – thyme, oregano, basil.
It's 1 of chopped onion.
Butternut squash zoodles were on sale today so thought we would try this recipe. It was quick, easy and absolutely delicious! Since we had lots of homemade spaghetti sauce, we used a cup of that as a timesaver for step one. Will definitely add this to our list of favourite recipes!
Vickys Roasted Butternut Squash & Parsnip Soup GF DF EF SF NF step by step
Place the squash, parsnip and garlic onto a baking tray, drizzle in olive oil, season with the salt and herbs and roast at gas 6 /180C/ 375°F for 20 minutes.
Fry off the onion until translucent then when the veggies have finished roasting, place into the soup pan. Squeeze the garlic out of its skin and also add to the pan.
Add the stock and season with pepper and simmer gently for 20 minutes to infuse the flavours.
Liquidise in a blender and season again if needed.
You can add some diced pear to the soup as it's simmering for more flavour, or some curry powder to spice it up.
Serve with a warm roll or crusty bread. If you feel creative, hollow out the bulbous part of the squash and use it as the serving bowl! Don't waste the seeds – dry them off and roast them in the oven. They make a delicious snack.
To do so, sprinkle inside the hollowed out squash bowls with a pinch of sugar and salt then roast on the tray you did the veggies on for 30 – 35 minutes.
If you want to do the seeds too, add them to the tray after 15 minutes. Sprinkle them with salt and toss them in the oil and herb residue.
Ladle the soup straight in and sprinkle some of the roasted seeds on top for garnish. The bowls are edible. Don't be afraid to eat the skin. It's so tender after roasting.
To roast butternut squash halves without peeling, first halve your squash lengthwise and remove the seeds. Rub a little olive oil over the squash and sprinkle with salt and pepper, for seasoning. You can skip the oil and seasoning if you plan to make butternut squash puree for making pancakes, muffins or other recipes. Place the squash on a sheet pan and drizzle with the olive oil, salt, and pepper and toss well. Place butternut squash halves on a large baking sheet flesh side up.