Cucumber, Tomato, & Onion Salad. Great summertime salad for fresh garden veggies! I removed the seeds from the cucumber and tomatoes, then sprinkled with salt to remove the excess moisture. I eyeballed the lemon juice and added a splash of garlic infused olive oil, a dash of dried italian seasoning and pepper as stated.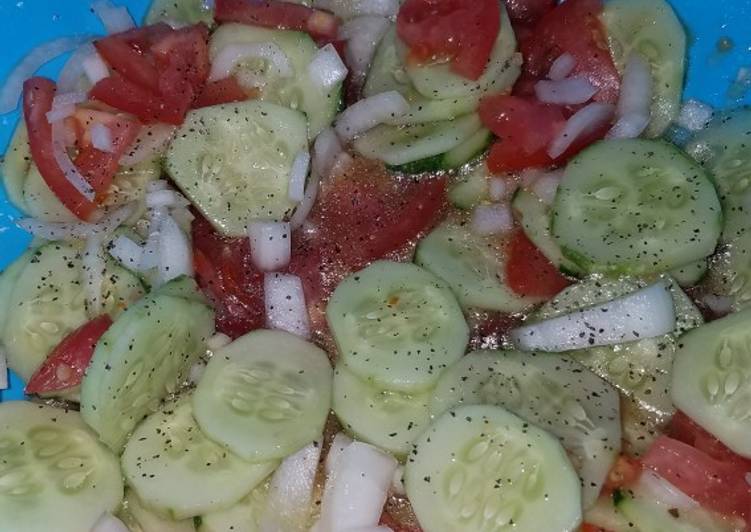 Serve cucumber tomato onion salad next to grilled or roasted meats or fish, such as marinated beef or chicken kabobs, grilled salmon, or pork tenderloin. Combine the tomatoes, cucumber, onion, olive oil, vinegar, basil, parsley, dill and some salt and pepper in a bowl and toss well. Dress the tomatoes, onions, and cucumber with olive oil, red wine vinegar, salt, and pepper. You can cook Cucumber, Tomato, & Onion Salad using 4 ingredients and 6 steps. Here is how you cook that.
Ingredients of Cucumber, Tomato, & Onion Salad
It's of Cucumber.
You need of Tomato.
Prepare of Onion.
It's of Italian dressing.
Re-toss and serve salad with crusty bread for. Marinated Cucumber, Tomato, and Onion Salad is the perfect summer salad. It's both sweet and tangy and the fresh crispness of the cucumbers and onions can't be beat. This summer salad is a simple mixture of oil, vinegar, sugar, salt and pepper along with sliced cucumbers, tomatoes, and onions.
Cucumber, Tomato, & Onion Salad instructions
Today I have fresh Cucumbers from my moms garden..
Peal Cucumber. You can leave some peal on for texture & color or remove all. Your choice..
Slice cucumber.
Cut up onions.
Cut or dice tomatoes.
Mix all together. Let marinate in Italian dressing. (I just picked up something from dollar general and was really good.) Add a little pepper if you chose..
Cucumber Tomato Salad is the perfect side salad for any time of year! It is packed with juicy ripe tomatoes, crisp cucumbers and fresh herbs and all topped off with a delicious creamy dressing for a healthy addition to your menu plan! I add in fresh herbs and once in a while a sprinkle of feta cheese! Fresh Tomato Cucumber Salad garnished with red onion and fresh basil. One of our favorite fresh and healthy side dishes!