Traditional Greek Salad. A truly traditional Greek Salad with ripe tomatoes, cucumbers, bell peppers, onions, and creamy feta cheese; plus tips and a step-by-step video. I'm sharing everything I learned from my visit to Greece! Greek salad (Horiatiki), is an iconic Mediterranean recipe that is dressed simply with a splash of Greek extra virgin olive oil and a little red wine vinegar (or lemon juice).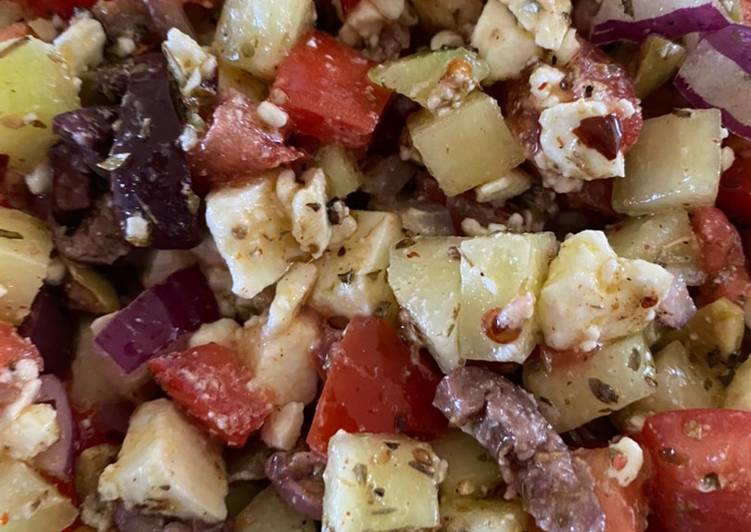 Try drizzling it on traditional Greek salad, Greek couscous salad or any of these other Greek salad recipes. You can also use it to make Greek pita spread or feta steak tacos. This traditional Greek Salad recipe is wonderfully uncomplicated, easy to make, and so refreshing. You can cook Traditional Greek Salad using 10 ingredients and 1 steps. Here is how you achieve that.
Ingredients of Traditional Greek Salad
Prepare 1/2 of cucumber, cubed (peeled and seeded).
Prepare 1 of med/lg tomato, cubed.
You need 1/4 of red onion, roughly chopped.
Prepare 2 oz of Greek olives, sliced.
You need 1/8 cup of feta cheese, cubed (or crumbled).
You need 1/8 cup of olive oil.
You need 1 tbs of dried oregano.
It's 1/2 tsp of crushed red pepper.
Prepare 1/2 tsp of granulated garlic (or minced).
Prepare to taste of Salt & Pepper,.
Feel free to toss it everything together in a mixing bowl, or just serve the base ingredients with bottles of olive oil and red wine vinegar on the side for people to dress their individual portions. Olives: Whole Kalamata olives with pits are what's always used in a Classic Greek Salad Recipe. Feta Cheese: A big piece of Feta cheese preferably hard and well ripened. Olive Oil: Plenty of olive oil is a must in a Greek Salad.
Traditional Greek Salad instructions
Combine all ingredients and mix well. Refrigerate for 30-45 mins before serving. ENJOY!.
It's what makes it so healthy and delicious. This Greek salad is a favorite of my father's to make during the summer. We usually have plenty of tomatoes and cucumbers growing in the garden, and all you have to do is toss in some red onions, olives, bell pepper, feta cheese, a few herbs, and some olive oil and vinegar and you have beautiful, cooling, fresh, Greek salad. Known as horiatiki, this traditional Greek salad is made with cherry tomatoes, cucumber, kalamata olives, thinly sliced red onion, and feta. The easy dressing is a mixture of red wine vinegar.