Vegan light lunch – Tomato Soup + Salad. Garden mixed lettuce topped with red onion, tomato, avocado, chives, chicken, bacon, egg and your choice of bleu cheese or feta cheese. Served with our house made cobb salad dressing. Pureed black beans and tomatoes are combined with vegetable broth to make a nice thick base for this soup, which hosts celery, carrots, onion and corn.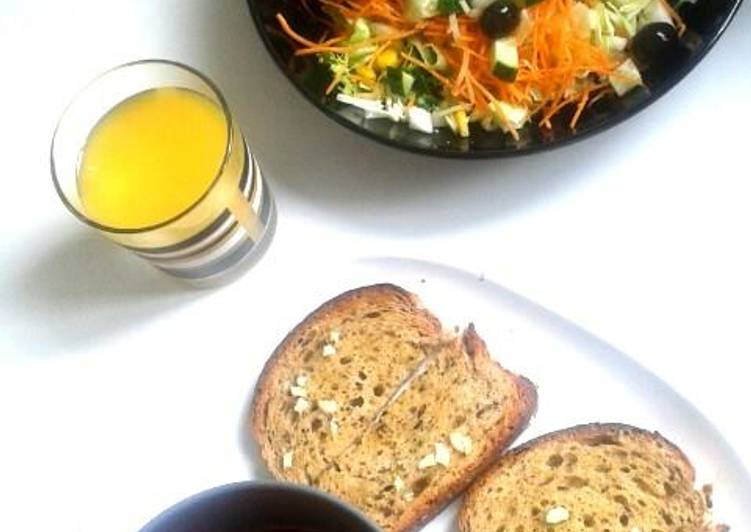 Power Blender instructions: no need to finely dice the red onion, just cut into thick wedges. Place the onion in the blender first, followed by the tomatoes, curry paste, garlic granules, seasoning coconut milk and finally vegetable stock. In the easy recipe, tomatoes, onion, garlic and basil are cooked until soft and pureed for a simple and flavorful homemade tomato basil soup that's perfect for a light lunch or dinner. You can cook Vegan light lunch – Tomato Soup + Salad using 12 ingredients and 3 steps. Here is how you cook that.
Ingredients of Vegan light lunch – Tomato Soup + Salad
Prepare 200 g of tomato purée (or quantity to taste).
Prepare 1 tbsp of olive oil.
It's 1-3 tsp of oregano.
It's to taste of salt.
Prepare 1 of carrot (grated).
Prepare 1/2 of cucumber.
You need 1/2 of onion.
It's 1 small can of sweet corn.
You need 1 small can of green peas.
It's 5 leaves of lettuce and/or cabbage.
Prepare to taste of (any other vegetable you would like to add, for example tomatoes or lentils).
You need 1 handful of black olives.
Here is everything you will need: Tomatoes – use roma, plum or tomatoes on the vine (can sub with canned as noted in the recipe). Tomato soup is a classic, heartwarming dish that can be enjoyed as an appetizer or the main entree. Fortunately, a hearty tomato soup doesn't need butter, cream or chicken stock to be delicious! This easy vegan tomato soup recipe has a slightly chunky texture and uses only a few simple ingredients, none of which have animal byproducts.
Vegan light lunch – Tomato Soup + Salad step by step
For the soup: heat the tomato purée in a small pot on medium heat until warm, add the olive oil, oregano and salt, mix, taste and add salt and oregano to taste. If the purée is too thick, add a few spoonfuls of water, then olive oil, salt and oregano to balance it out. (leaves of basil are also welcome!)..
For the salad: grate the carrot, thinly slice the cabbage and/or lettuce leaves, dice the cucumber, onions. Mix all the remaining vegetables. Add salt, vinegar (or lemon juice) and olive oil to taste..
Enjoy with a piece of toast and orange juice for best experience! :b.
For easy entertaining, cover and refrigerate the salad a few hours before guests arrive so you don't have to bother with last-minute assembly. Turn it into a light lunch by adding sliced rotisserie chicken, salmon or tuna. —Melissa Wharton, Cincinnati, Ohio About BBC Good Food. We are the UK's number one food brand. Whether you're looking for healthy recipes and guides, family projects and meal plans, the latest gadget reviews, foodie travel inspiration or just the perfect recipe for dinner tonight, we're here to help. While it's easy to find delicious vegan dinner recipes, vegan lunch is often kind of the same and it can even be a bit boring.