Tuna salad stuffed tomatoes. Cut a thin slice off the top of each tomato. Invert tomatoes onto paper towels to drain. In a bowl, combine the mayonnaise, celery salt, dill and pepper.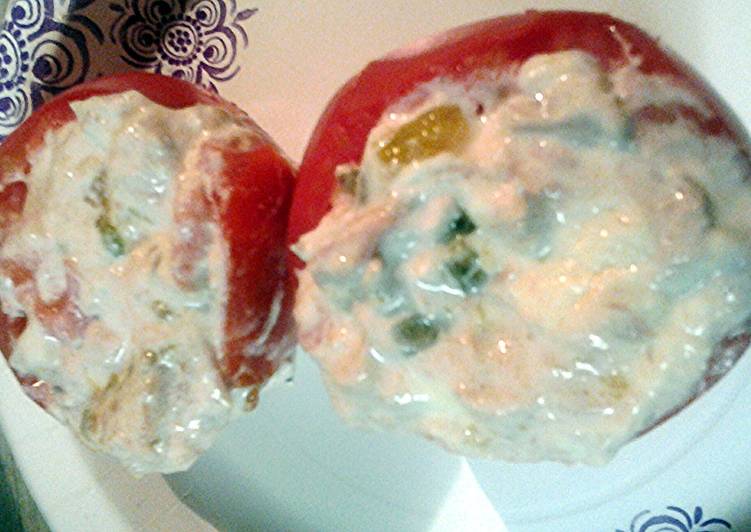 Add celery, onions and olives and mix. Combine mayonnaise mixture to tuna and vegetables and blend well, folding in chopped eggs. Slice off top of ripe tomatoes, scoop out pulp and reserve for other use. You can have Tuna salad stuffed tomatoes using 4 ingredients and 8 steps. Here is how you achieve that.
Ingredients of Tuna salad stuffed tomatoes
Prepare 1 1/4 tbsp of mayonnaise.
It's 4 oz of can of tuna packed in water.
Prepare 1 tsp of sweet cubed pickled cucumbers.
You need 3 of tomatoes ripened.
In a bowl, combine tuna, cheese, mayonnaise, celery, onion, pickle, pickle juice, salt, celery seed and pepper. Cut tomatoes, not quite through, into quarters; place on individual plates and spread apart. Garnish with bacon bits if desired. The tuna in this great-looking stuffed tomato recipe isn't your typical mayo-based affair.
Tuna salad stuffed tomatoes step by step
Was the tomatoes.
Cut tops off hollow out the inside of the tomatoes set aside the insides discard the tops.
Open the tuna drain the liquids.
Mix the tuna insides of tomato.
Mix the tuna insides of tomatoes.
Add mayonnaise cubed relish mix well together.
Stuff the tuna salad back into the hollow tomatoes.
Chill or serve at room temperature, enjoy.
The sherry vinaigrette does double duty: it adds fresh flavor to the tuna filling and also dresses the baby arugula and white bean salad. How do you make tuna stuffed tomatoes? ⭐ First, using a knife and spoon, carefully scoop out the tomato insides (I like to save mine to use in soups or salsa). ⭐ Next, in a bowl, combine tuna fish, relish, garlic salt, and mayonnaise (start with a small amount of mayo and work your way up to desired consistency). ⭐ Finally, fill hollowed tomato with tuna salad and garnish with extra. Savory tuna fish salad stuffed inside little cherry tomatoes, make a perfect appetizer bite. Your guests will love Tuna Stuffed Tomatoes! After a bit of a hiatus, it's time again for the big February Secret Recipe Club reveal, and this month I had two blogs.