Cucumber tomato salad. Marinated Cucumber, Onion, and Tomato Salad Marinated Cucumber, Onion, and Tomato Salad. Cucumber Tomato Salad is a classic salad, light, cooling, and oh-so refreshing. This easy salad is made with sliced cucumbers & juicy tomatoes and enhanced with slivers of red onion and a tangy vinaigrette dressing.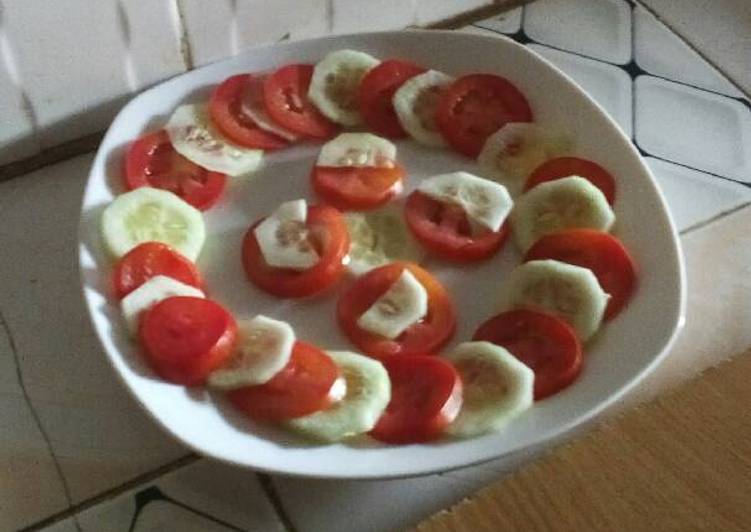 One of our favorite fresh and healthy side dishes! There's almost nothing I love more than fresh garden tomatoes. Come tomato season, you'll find me snacking on all things tomato including Tomato Basil Mozzarella Toast, Tomato Avocado Melt, or a Buddha Bowl with extra tomatoes! You can cook Cucumber tomato salad using 2 ingredients and 3 steps. Here is how you cook it.
Ingredients of Cucumber tomato salad
You need 1 of cucumber.
It's 2 of tomatoes.
This easy cucumber and tomato salad tastes like summertime in a bowl. The dressing is light and zingy from the vinegar, the cucumbers and onion are so pleasantly crunchy you can't stop eating them, and the tomatoes are so juicy and sweet they burst in your mouth. It's perfect as a light summer snack, but would also be a great side dish at any barbecue or cookout or even an addition to. I removed the seeds from the cucumber and tomatoes, then sprinkled with salt to remove the excess moisture.
Cucumber tomato salad step by step
Wash and peel the cucumber.
Slice cucumber and tomato into round rings.
Serve it..
I eyeballed the lemon juice and added a splash of garlic infused olive oil, a dash of dried italian seasoning and pepper as stated. Combine tomatoes and cucumbers in a bowl. Add sour cream, balsamic vinaigrette, lemon juice, dill, and garlic salt; stir. Season with salt and ground pepper. Toss cucumber, tomato, olive oil, red wine vinegar, red onion, and white pepper together in a large bowl; season with salt.