Roasted tomato and pesto zucchini noodles. To prepare the noodles: Spiralize the zucchini with a spiralizer (here's how), or turn the zucchini into noodles with a julienne peeler, or grate the zucchini the long way on a large box grater. Toss the zucchini with pesto until well coated, and season with salt (I added another ¼ teaspoon). This recipe could not be easier, you simply roast the tomatoes, grill the chicken, slice the zucchini into noodles and then toss it all in a fresh homemade basil pesto!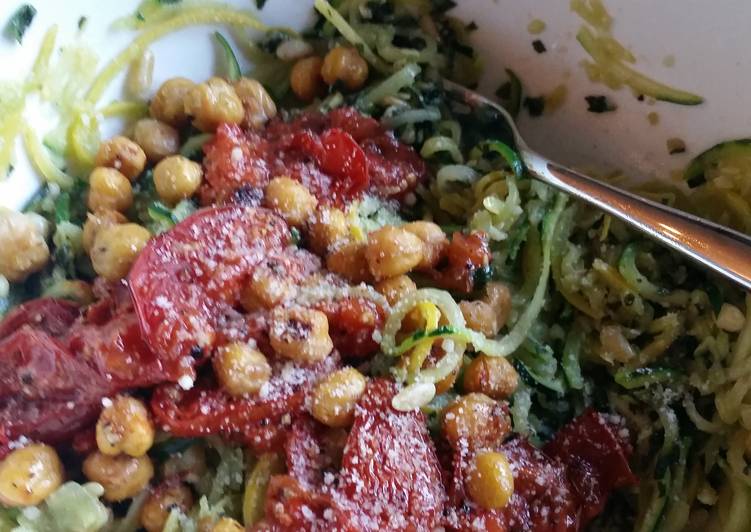 Spiralize the zucchini according to manufacturer's directions. Add the pesto, season with salt and pepper, stir to coat, and heat until warm. AKA zoodles, zucchini noodles make creating a flavorful, veggie focused meal a snap and enjoyed seasonally, they're a perfect partner for fresh and saucy roasted cherry tomatoes. You can have Roasted tomato and pesto zucchini noodles using 4 ingredients and 4 steps. Here is how you achieve it.
Ingredients of Roasted tomato and pesto zucchini noodles
It's 2 cup of zucchini noodles.
It's 1 of large tomato.
You need 1 cup of chick peas.
Prepare 1 of pesto.
But as simple as zoodles are, there's a few things to keep in mind when cooking and prepping a zucchini noodles recipe. Heat oil in heavy large pot over medium-high heat. These zucchini noodles are good cold or hot. I love eating leftover zucchini noodles cold, right from the fridge.
Roasted tomato and pesto zucchini noodles instructions
Roast sliced tomato and chickpeas in the oven 400° for approx 30 mineuts. Add evoo, salt & pepper.
Make pesto (blend basil, pine nuts, garlic and evoo) or use store bought.
Sautee zucchini noodles with garlic.
In a bowl, add the noodles, roasted tomatoes and chickpeas and then mix with the pesto..
They are also great for packing up for a summer picnic. Zucchini Noodles with Pesto, the perfect simple recipe for summertime when zucchini, tomatoes, and basil are growing like crazy in the garden! Make low-carb zucchini noodles, aka zoodles, with a spiralizer! The uncooked zucchini is tossed with hot olive oil and a blend of parsley, ground walnuts, and Parmesan cheese, and then topped with fresh tomatoes and olives. Recipe adapted from Bon Appetit's spaghetti with tomato and walnut pesto.