Mike's Tangy Cucumber Salad, this is recipe you're looking for? Please look at the menu list to choose the recipe and beverage you want to try. if you search Mike's Tangy Cucumber Salad you in right place. A Simple Salad to Kick Off Grilling Season. To me, this salad sings of grilling season. It's a light, refreshing addition to whatever you happen to toss on the grill in the evening, be it steak, chicken, fish, or even just a slew of veggies.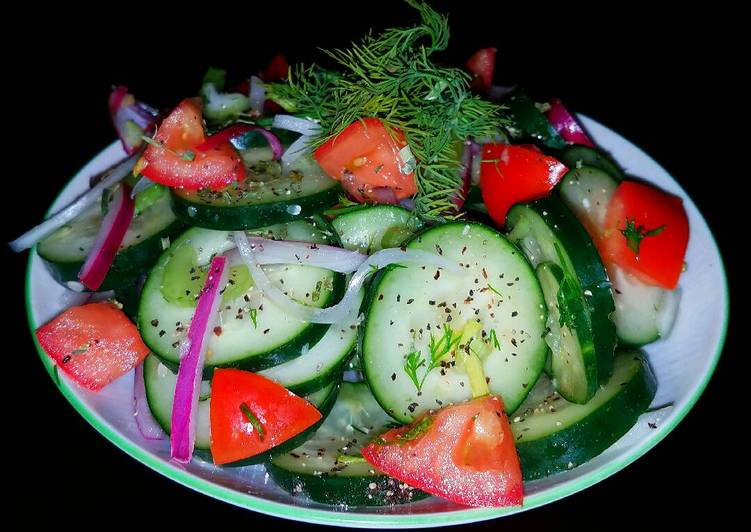 The salt makes the cucumbers taste better and get rid of excess water. These long, thin cukes are sometimes labeled "seedless," although they do contain seeds—just small ones. You'll spark taste buds with this tangy and refreshing salad. You can have Mike's Tangy Cucumber Salad using 11 ingredients and 2 steps. Here is how you cook it.
Ingredients of Mike's Tangy Cucumber Salad :
Prepare 2 of LG Cucumbers [thin sliced] –
You need 1 Cup of Red Onion [thin sliced] –
You need 1 Cup of Vidalia Onions [thin sliced] –
Prepare 1 Cup of Vinager [or more to taste] –
It's 1 Cup of Sugar [or less to taste] –
It's 1 tbsp of Fresh Ground Black Pepper –
You need 3 tbsp of Fresh Dill Weed –
Prepare 2 of Firm Roma Tomatoes [chopped] –
It's 1/2 Cup of Celery [with leaves] –
It's 1/2 tsp of Celery Salt –
Prepare 1/2 tsp of Celery Seed –
The simple marinade gives mild cucumbers lots of zip. The tomatoes are a pretty addition. This is a super use of summer's garden bounty. "This salad is a refreshing side to spicy Thai food. I prefer it without hot peppers or peanuts since its major purpose for me is refreshment.
Mike's Tangy Cucumber Salad instructions
Chop all vegetables and add all seasonings..
Chill for at least two hours if not one day. It does get better with time! Stir regularly. Enjoy!.
Looking for the perfect cucumber salad recipe? Vinegar, sugar, salt and onion help compliment this quick-and-easy salad recipe. All it takes is a few extra minutes of marination time to soften the bite of the onions and help the tangy seasonings infuse every bite of cucumber. This recipe is something easy but so delicious! This is one of those salads you'll make again and again!