Salted Caramel & Chocolate Chip Banana Bread, this is recipe you're looking for? Please look at the menu list to choose the recipe and beverage you want to try.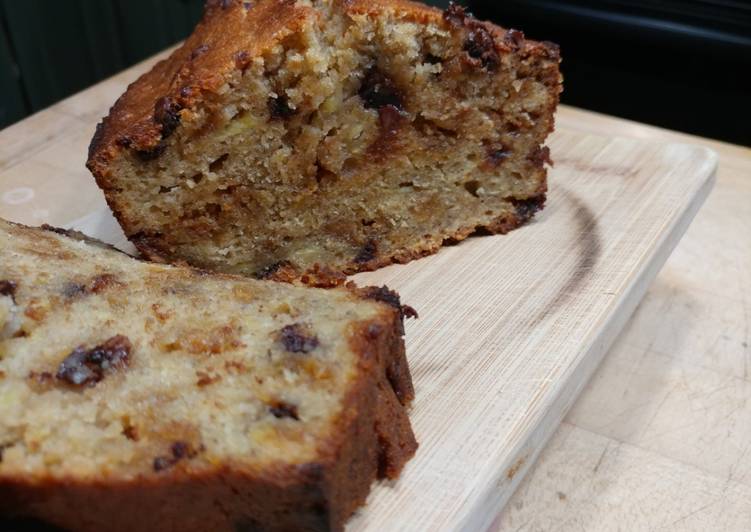 You can have Salted Caramel & Chocolate Chip Banana Bread using 11 ingredients and 7 steps. Here is how you achieve it.
Ingredients of Salted Caramel & Chocolate Chip Banana Bread :
Prepare 2 cups of all purpose flour.
You need 1 teaspoon of baking powder.
Prepare 1/2 teaspoon of kosher salt.
You need 1/2 cup of butter (room temperature).
Prepare 3/4 cup of dark brown sugar.
Prepare 2 of large eggs.
Prepare 4 of very ripe bananas (don't mash until ready to mix).
Prepare 1 tablespoon of vanilla extract.
It's 1/4 cup of granulated sugar.
You need 1/2 cup of Hershey's Salted Caramel Baking Chips.
Prepare 1/2 cup of Hershey's Milk Chocolate Baking Chips.
Salted Caramel & Chocolate Chip Banana Bread instructions
Preheat oven to 400° & spray a glass 9×5 loaf pan with non stick spray..
In a large bowl whisk together the flour, salt, and baking powder. This will ensure all your ingredients mix well and you won't overwork the batter..
In a separate bowl lightly beat eggs with a fork. Mix in the brown sugar, granulated sugar, and vanilla extra until well combined. Add in the butter and mix well. I used a hand mixer at this point to get the mixture smooth. Set this aside once smooth..
In another bowl peel and mash your bananas really well. Then mix the mashed bananas in with your wet ingredients..
Poor 1/3 of the dry ingredients into the wet, and using a spatula gently fold until combined. Repeat two more times until all the dry is combined with the wet. Then add the baking chips. Do not over mix the batter. You want the ingredients to all just come together..
Pour into prepared baking dish and bake at 400° for 1 hour. Check for doneness by inserting a small knife in the center. It's done if it comes out clean. Ovens vary so cooking time may be a little different..
Remove from oven and let cool in baking dish for 30 minutes. After that remove from pan and cool for another hour on a rack..