Alfredo sauce. For a lighter version of Alfredo sauce, try making a roux with one tablespoon each butter and flour. After about two minutes, when the mixture is foamy and bubbling, add your liquid of choice to create a white sauce. You can use one cup of regular milk, half-and-half or a mixture of chicken stock and heavy cream.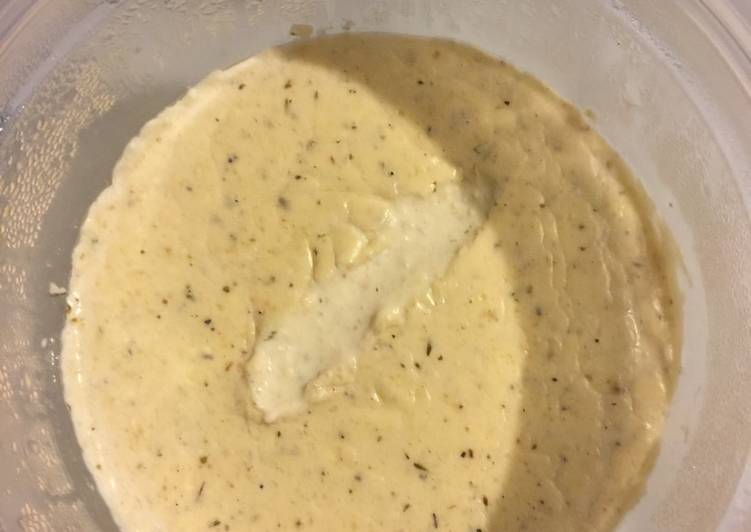 It is made from butter, a type of cream and parmesan cheese. Adding seasonings and cream cheese for a thickener I like to blend a rich, creamy sauce together that is simple and irresistible. In a saucepan or skillet, warm the butter and cream. You can cook Alfredo sauce using 9 ingredients and 3 steps. Here is how you cook it.
Ingredients of Alfredo sauce
You need 1/2 cup of butter.
Prepare 2 cups of heavy whipping cream.
Prepare 4 ounces of Greek yogurt cream cheese.
It's 1/2 teaspoon of minced garlic.
Prepare 1 teaspoon of garlic powder.
Prepare 1 teaspoon of Italian seasoning.
Prepare 1/4 teaspoon of salt.
It's 1/4 teaspoon of pepper.
You need 1 cup of grated Parmesan cheese aged.
Add the Parmesan and stir until melted. Toss to combine, thinning with pasta water if necessary. Melt butter or margarine in a saucepan over medium heat. Stir in salt, nutmeg, grated Parmesan cheese, and grated Romano cheese.
Alfredo sauce step by step
In a medium sauce pan add butter, heavy whipping cream and cream cheese cooked over medium heat whisk until melted add minced garlic powder Italian seasoning and salt and pepper continue to whisk until smooth add grated Parmesan cheese.
Bring to a simmer and continue to cook for about 3 to 5 minutes until it starts the thicken.
Then toss it with your favorite pasta.
Stir constantly until melted, then mix in egg yolk. The silky texture of authentic Alfredo is created by a balanced emulsion of grated Parmesan, butter, and starchy pasta water. But if mealtime calls for serving the garlicky Parmesan cream sauce without pasta (or its cooking liquid!), you need a new approach. The secret to creamy Alfredo sauce is the cream, of course! Carefully pour the cream into the saucepan with the melted butter and garlic.