Fettuccini Alfredo Chicken and Broccoli Pasta. Bring a large pot of water to a bowl. Bring a large pot of salted water to a boil. If the mixture is too thick, add more milk as needed.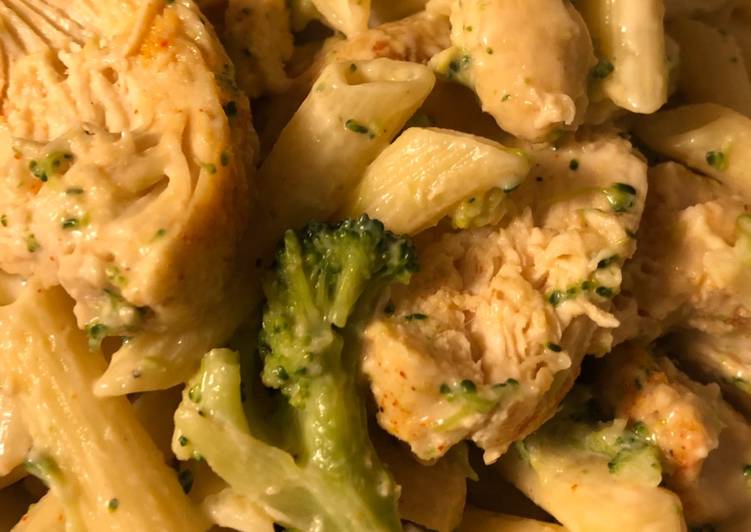 Heat the olive oil in the pot over medium-high heat, and add the chicken. Season the chicken with season salt and pepper. Once the chicken is cooked through, remove it from the pot and set aside. You can have Fettuccini Alfredo Chicken and Broccoli Pasta using 11 ingredients and 6 steps. Here is how you cook it.
Ingredients of Fettuccini Alfredo Chicken and Broccoli Pasta
You need 3 of chicken breasts.
It's 1 box of fettuccini pasta.
It's 1 jar of value sized alfredo sauce.
You need 3 cups of broccoli florets.
Prepare 1 tsp of salt.
Prepare 1 tsp of pepper.
It's of Chicken seasoning.
It's 1 tbsp of onion powder.
You need 1 tbsp of garlic powder.
You need 1 tbsp of all purpose salt.
Prepare 1 tsp of cayenne powder.
This version of fettuccine Alfredo with broccoli is one of my favorites because it's meatless, so Meatless Monday approved, it's made with half and half rather than heavy cream, so you don't need to be rolled away from the table after eating it, and it takes almost zero time and effort to make. To save on prep time, replace fresh chopped broccoli with frozen chopped broccoli florets. If you're accustomed to buying jarred sauce, this chicken and broccoli Alfredo will show you just how easy—and scrumptious—homemade sauce can be. The perfect dinner, this Fettuccine Alfredo is richly saucy, and full of tender chicken, hearty mushrooms, and bright broccoli.
Fettuccini Alfredo Chicken and Broccoli Pasta instructions
Set oven to 400 degrees. Pound the chicken and season with the spices listed in the ingredients. Place the chicken on a cookie sheet and leave in the oven for 20 minutes or until chicken is cooked all the way through..
While chicken is in the oven, grab two pots, fill them with water, and bring to a boil. Once boiling, put the pasta in one pot and the broccoli in the other..
Turn the pot with broccoli down to medium heat to avoid turning your broccoli into mush. Boil until broccoli is soft..
Once the pasta is soft, strain the pasta along with the broccoli. Put both back into a large pot along with the Alfredo sauce..
Take the chicken out of the oven and cut the chicken into cubes or strips. Add the chicken to the pasta..
Sprinkle salt and pepper on the pasta and mix it up. Enjoy!.
While the chicken and broccoli are cooking, heat the butter and garlic in a medium sauce pan over medium-low heat. In this creamy chicken and broccoli alfredo pasta, the chicken is moist and tender, as it is smothered in a creamy, white cheese alfredo sauce. This delicious family favorite dinner combines protein (chicken), carbs (pasta), veggies (broccoli) and a homemade creamy sauce. Meanwhile, in large nonstick skillet, heat oil over medium-high heat. Remove chicken and garlic from skillet.