Winter Vegetable Cornucopia, this is recipe you're looking for? Please look at the menu list to choose the recipe and beverage you want to try. if you search Winter Vegetable Cornucopia you in right place.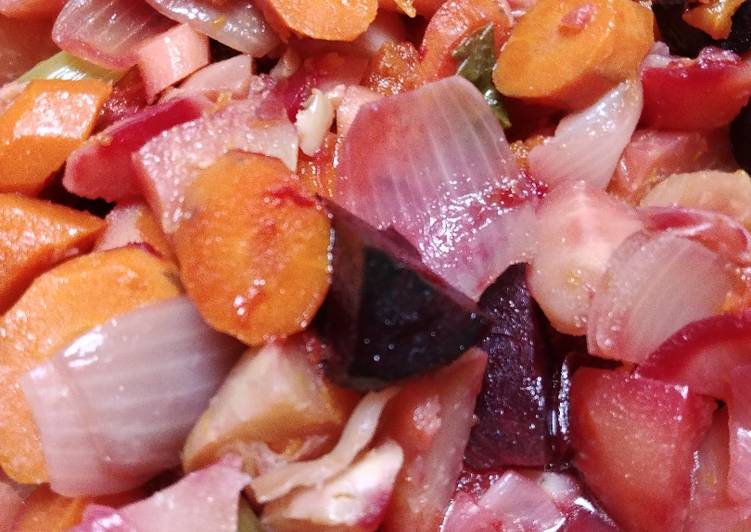 You can cook Winter Vegetable Cornucopia using 18 ingredients and 6 steps. Here is how you achieve it.
Ingredients of Winter Vegetable Cornucopia :
Prepare 4 of white turnips –
You need 4 of Kohlrabi –
You need 6 of carrots –
It's 6 of parsnips –
It's 2 of acorn squash –
Prepare 6 of beetroots –
It's 6 of celery stalks –
It's 2 of red onions –
Prepare 2 of white onions –
Prepare 2 of yellow onions –
It's 12 of whole garlic cloves –
You need 1 cup of vegetable broth –
It's 1 cup of chopped parsley –
You need 2 tbsp of extra virgin olive oil –
Prepare 2 tbsp of apple cider vinegar –
Prepare 1/8 tsp of cracked black pepper –
It's 1/8 tsp of coarse pink salt –
It's 1 tbsp. of whole peppercorns in brine –
Winter Vegetable Cornucopia step by step
Peel and slice all vegetables in 1" cubes, onions in wedges and peel whole garlic cloves..
Layer into a large roaster with hardest vegetables on the bottom. intersperse garlic cloves and onion wedges and toss together with parsley.
Add broth and top with salt & pepper, drizzle with olive oil..
Preheat oven to 350F and place in a covered roaster for 3 hours..
Uncover roaster, place back in oven until veggies begin to brown (about 1 hour).
Drizzle with olive oil and apple cider vinegar, then toss lightly and serve..