Zucchini and Sweet Corn Crustless Pie. Heat the butter in a large, deep skillet over medium high heat. Add the onions, zucchini, and mushrooms. While the veggies saute, cut the corn kernels off the cob.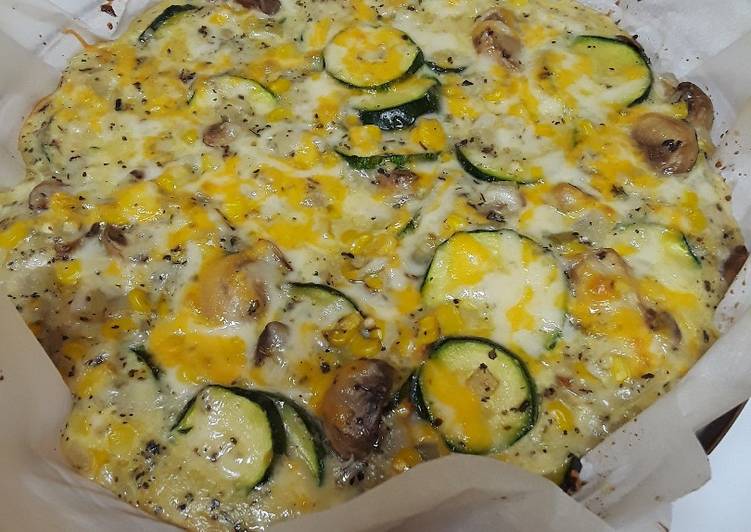 Feel free to mix and match veggies and cheese. You can really make this delicious crustless zucchini pie your own! To freeze individual slices: cover them in plastic wrap and tinfoil, and then place them into airtight containers or ziploc bags in the freezer. You can cook Zucchini and Sweet Corn Crustless Pie using 14 ingredients and 3 steps. Here is how you achieve that.
Ingredients of Zucchini and Sweet Corn Crustless Pie
Prepare 2 tbsp. of unsalted butter.
You need 1/2 of onion, diced.
It's 2 of zucchini, sliced thinly (about 4 cups).
Prepare 8 oz. of sliced mushrooms.
You need 2 ears of sweet corn, kernels sliced off (about 1 cup).
You need 2 cloves of garlic, minced.
Prepare 1 tbsp. of dried basil.
Prepare 1 tsp. of dried oregano.
Prepare 1/2 tsp. of salt.
Prepare 1/4 tsp. of each pepper, salt free all purpose seasoning.
Prepare 4 oz. of freshly shredded swiss cheese.
Prepare 4 oz. of freshly shredded white cheddar cheese.
You need 2 oz. of freshly shredded sharp yellow cheddar.
You need 4 of large eggs, beaten.
This pie is by far Visual Content Producer Ramona King's favorite recipe with zucchini. The dried herbs perfectly compliment the mildness of the summer squash while the corn and Vidalia onions add a sweet and crunchy note. Add cream cheese and cheddar cheese, and you've got yourself a comforting and bright bite. Cut the corn kernels off the cob.
Zucchini and Sweet Corn Crustless Pie step by step
In a large skillet, heat the butter over medium heat. Once it's melted, add the onion and mushrooms. Cook for 3 or so minutes, then add the zucchini and corn. Cook until everything has a chance to soften, about 5 or so minutes, then stir in the garlic and cook for another minute or so before removing the pan from the heat. Make sure to strain out any excess liquid in the pan, then place the veggies in a large bowl and let them cool for just a few minutes..
Preheat the oven to 375°F. Line a 9" pie dish with parchment paper. Once the veggies have cooled slightly, stir in the seasonings, beaten eggs and most of the cheese (reserve a handful for topping). Pour the veggie mix put into the lined pie dish and sprinkle the extra cheese evenly over the top..
Bake for 25 or so minutes, until the center is completely set and cooked through. Check on it at about halfway through and if its browning too quickly, then loosely cover it with foil. Once it's done, remove it from the oven and let it sit for 10 or so minutes before slicing and serving..
Add them to the pan and continue to sauté until the veggies are soft. Remove from heat and stir in the basil, oregano, salt, cheese, and the beaten eggs. Spray pie plate with nonstick spray. Transfer the mixture to the pan. Arrange the top so the zucchini slices lay flat.