Fettuccine Alfredo with sausage and veggies. Delicious sausages made with premium ingredients. Sausage Alfredo is a tasty mix of creamy Fettuccine Alfredo and savory Italian Sausage. I don't know about you, but I feel like there just aren't enough Sausage Pasta Recipes out there.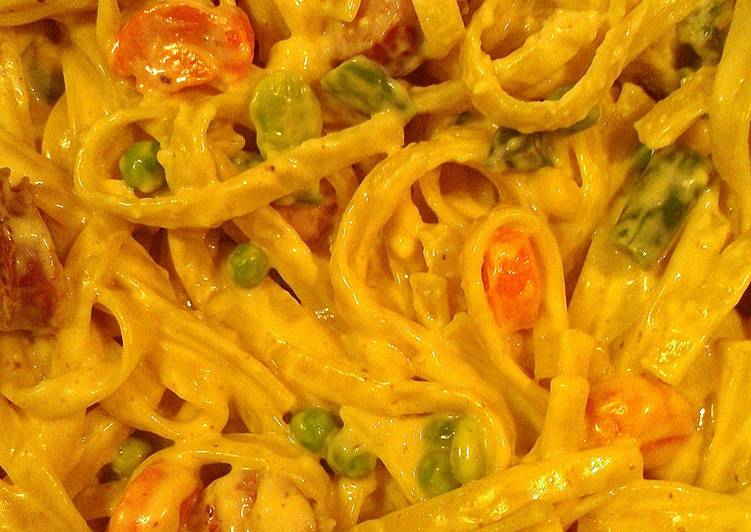 Served over fettuccini noodles, this recipe makes two large or three small servings. Fettuccine Alfredo with sausage and veggies simple, quick and tasty. This Instant Pot Fettuccine Alfredo with sausage is an easy one pot pasta dinner. You can have Fettuccine Alfredo with sausage and veggies using 8 ingredients and 6 steps. Here is how you cook that.
Ingredients of Fettuccine Alfredo with sausage and veggies
Prepare of Pasta.
Prepare 6 of -8 cheese turkey or chicken sausage.
You need 1 lb of fettuccine noodles.
You need 1 cup of mixed frozen vegetables, thawed and rinsed.
You need 1 cup of Alfredo sauce.
You need 1/2 cup of chicken stock.
Prepare 1 of grated parmesan cheese 1/3 cup or to taste.
Prepare 1 tbsp of olive oil.
It combines fettuccine with sausage, spinach and mushrooms in a rich and creamy cheese sauce. Bring a large pot of water to boil. Cook fettuccine according to package directions. Meanwhile heat a large skillet over medium high heat.
Fettuccine Alfredo with sausage and veggies instructions
cook fettuccine according to package. Save some pasta water you may need later..
heat oil in dutch oven, once hot, add sausage and brown..
stir in vegetables, Alfredo sauce and chicken stock, bring to a simmer.
add cooked pasta to simmering mixture. Taste, add salt and pepper as needed..
if this looks dry add some pasta water as needed. Do not add too much..
shake cheese on meal as needed..
Add olive oil, swirling to coat. This easy smoked sausage with pasta recipe is topped off with the addition of vegetables for a filling family dinner. One day she bought it to work and everyone loved it and begged her for the recipe. I never seem to have pizza dough on hand, but that doesn't stop our family from enjoying pizza. We top crusty French bread with creamy Alfredo sauce, sausage and veggies.