Alfredo Sauce done "light". This Healthy Alfredo Sauce is the p.e.r.f.e.c.t. combination. It's still warm and cozy, but it's totally light. Did I mention it's easy, too?!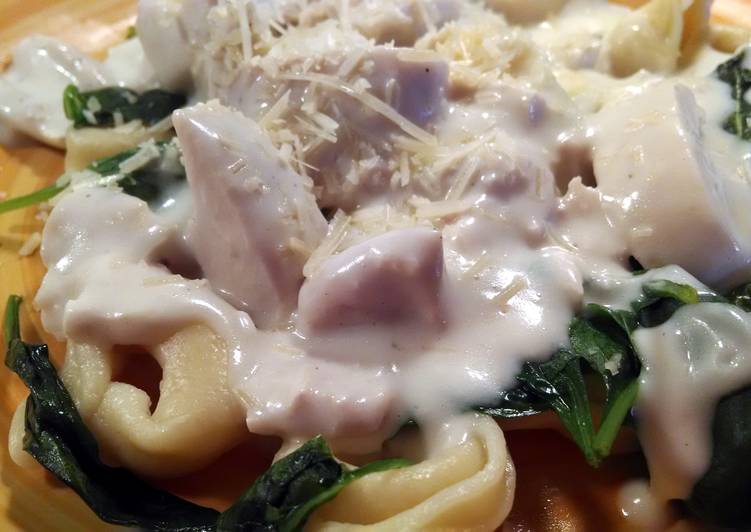 Heat olive oil in a large saucepan over medium heat. Alfredo Sauce done "light" A Kraft Foods recipe. Whip up a delightful Alfredo sauce with skim milk, chicken broth and flour in place of heavy cream. You can have Alfredo Sauce done "light" using 6 ingredients and 4 steps. Here is how you cook it.
Ingredients of Alfredo Sauce done "light"
Prepare 1 can of chicken broth(14.5 oz.).
Prepare 4 tsp of flour.
Prepare 6 oz of of light cream cheese.
It's 4 tbsp of grated parmesan cheese.
You need 1 tsp of garlic powder.
You need 1 of skim milk if needed.
Parmesan cheese gives it just the right zing. Add sauteed onions and garlic and lightly cooked broccoli, and you have a terrific dish! I was the skeptic, but if you know how picky my family is, you know this version was darned tasty if they approved. There's still butter and loads of Parmesan, so it's not totally.
Alfredo Sauce done "light" step by step
Combine broth and flour in medium saucepan cook for 2 minutes on medium until thickened.
Stir and cream cheese, garlic powder and salt & pepper to taste. cook for two additional minutes, stirring consistently.
Stir in Parmesan cheese or sprinkle on top if desired.
If it is too thick add small amounts of milk.
In a medium saucepan, heat oil over medium heat. Add garlic and saute until golden brown. In a small saucepan, stir together milk, chicken broth, flour, salt and pepper over low heat until smooth and thick. Not too shabby for a thick and creamy pasta. If you'd like to cut calories, use half and half in place of the heavy cream.