Spicy Chicken & Veggie Noodle Pasta Salad. I just made Spicy Chicken Breasts for dinner and my husband and I loved them!! However I took the advice from a few others and used half the amount of cayenne pepper because I didn't want them to be too spicy. Stir in the broth, tomato sauce, green onions, Worcestershire sauce, thyme, cayenne and hot pepper sauce.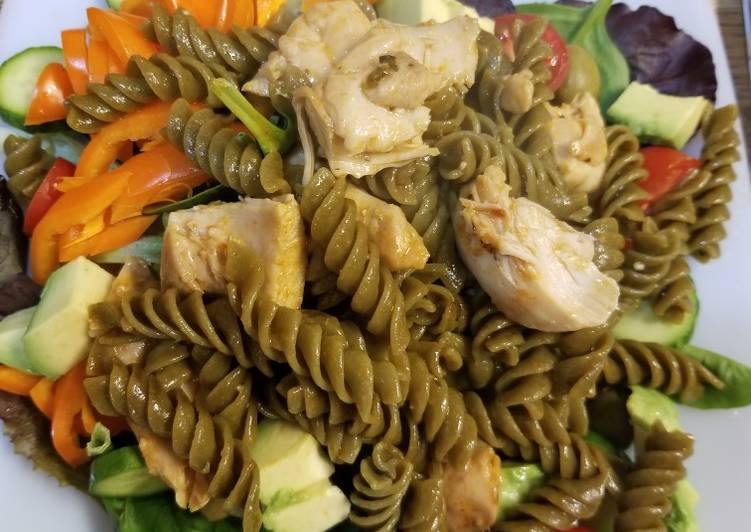 Prepare the batter: combine remaining ingredients in a medium bowl and whisk together. Place chicken cubes in the batter to coat. Batter should be very thin on the chicken. You can have Spicy Chicken & Veggie Noodle Pasta Salad using 17 ingredients and 10 steps. Here is how you cook that.
Ingredients of Spicy Chicken & Veggie Noodle Pasta Salad
Prepare 1 box of Skinner super greens rotini pasta noodles.
Prepare 1 lb of chicken.
You need 1 bag of mixed salad greens (spinach and romaine).
Prepare 5 of mini cucumbers.
You need of Grape seed oil.
Prepare of Mexican style cilantro line vinaigrette.
You need of Moore's habanero hot sauce.
You need of Del Primo habanera red sauce.
It's of Russian dressing.
It's of Chives.
You need of Black and/or green olives.
It's of Bell peppers.
Prepare of Avocado.
Prepare of Lemon juice.
Prepare of Chili powder.
You need of Minced garlic.
It's of Cilantro.
There's nothing better than a crispy-on-the-outside, juicy-on-the-inside, hot-as-heck chicken wing. Whether fried in Sriracha or grilled with cayenne. This delicious dish uses skinless boneless chicken breasts cooked in a gingery, spicy, soy sauce. It's great as an appetizer or as a main dish served with rice and a veggie.
Spicy Chicken & Veggie Noodle Pasta Salad step by step
In a medium saucepan at medium-low heat add a healthy amount of grapeseed oil. Then add Moore's habanero sauce, Del Primo habanera red sauce, Russian dressing, and the Mexican style cilantro lime vinaigrette. I don't have exact measurements but add an equal amount of the vinaigrette and Russian dressing. Add in a pinch of minced garlic and a few squirts of lemon juice. Add some seasoning to taste as well. I used habanero lime pepper and roasted garlic and sea salt..
Start a large pot of water boiling for the pasta..
Mix the sauce and when it's starting to simmer, lay the chicken breast on top of it. If the chicken isn't cut yet, that's fine. It'll be easier to chunk when it's cooked. Let the sauce cook the chicken slowly while you prepare the veggie noodles next..
Cut up the baby cucumbers, peppers, avocado, chives, cilantro, and halve the grape tomatoes. Then toss these into a large bowl (or plate some) with the mixed salad greens..
By now your pasta water should be getting close to ready. When it's boiling throw your pasta in, but not before you salt it! Boil the pasta for 7 minutes..
Flip and mix the chicken with the sauce to make sure it's cooking evenly. Spoon some of the sauce on top of the chicken while it's cooking. If you see that the majority of the sauce is evaporating away you can always add some more, making sure to add equal parts vinaigrette and Russian dressing. Also add some more seasoning after you flip the chicken..
Drain the pasta when it's done. Set aside..
With a hard edged spatula you should be able to cut the chicken into chunks. This will help it mix better with the salad..
Add the pasta noodles directly into the saucepan with the sauce and chicken. Mix thoroughly together. The noodles will absorb the sauce completely. Cook together for 3-4 minutes..
Throw the chicken and pasta in the bowl with the mixed salad greens and veggies, if you're storing this dish for later. If you're eating now, the warm chicken and pasta are great on top of the salad greens. Either way, warm now or cold later, you're done!.
Cumin Spiced Chicken Meatballs The spicy mayo is a MUST. Korean chicken thighs are slightly spicy and slightly sweet, marinated in classic Asian flavors of sesame, soy, ginger, garlic, and chile. Rinse the chicken wings under cold running water, then drain and blot dry completely with paper towels. Place the wings in a large bowl and sprinkle with the garlic salt, pepper, cayenne, and oregano. In a large pot over medium heat, combine water, chicken, salt, pepper, garlic powder, parsley, onion powder and bouillon cubes.