Pesto Pasta Salad. Cook the pasta in salted water according to package instructions. Then drain it and rinse in cold water. Cover and refrigerate pasta until cold.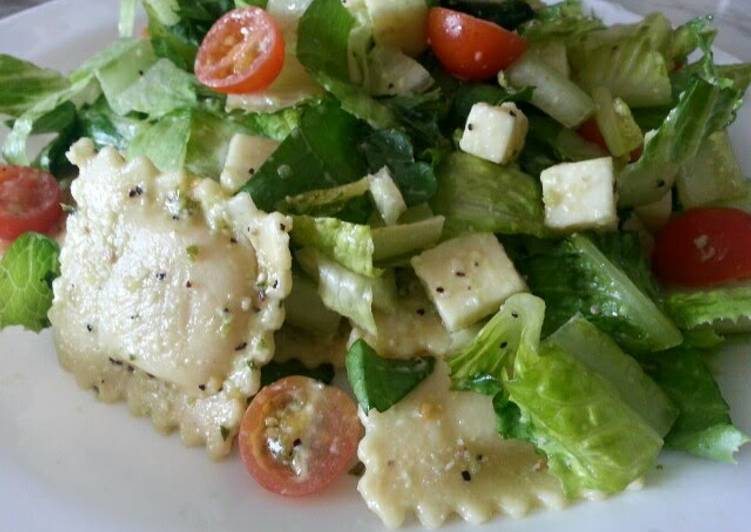 Rotini pasta is tossed with pesto, fresh mozzarella, and tomatoes for a colorful pasta version of Caprese salad. Add the pasta and cook until al dente, or according to package directions. Add a few tablespoons of pasta water to thin the pesto to evenly coat the pasta. You can cook Pesto Pasta Salad using 12 ingredients and 7 steps. Here is how you cook that.
Ingredients of Pesto Pasta Salad
It's of Dressing.
You need 1/4 cup of Pesto (I'm using pre-made).
You need 1 tbsp of Lemon Pepper Seasoning.
You need 1/4 tsp of Salt and Pepper.
It's 3 tbsp of Extra Virgin Olive Oil.
It's of Salad Ingredients.
You need 1 1/2 cup of Cheese Ravioli (you may use Tortelini).
You need 1 of Romaine Heart.
Prepare 10 of Halved Cherry Tomatoes.
Prepare 1/2 cup of Diced Mozzarella.
You need 3 of Basil Leaves.
It's 1/4 cup of Grated Parmesan Cheese.
Pasta salads are the ultimate summer move, especially when it's too hot to use the oven. They're easy yet delicious and come together quickly, plus they don't require much heat. Adding an easy homemade pesto to pasta salad elevates it to much more than a picnic or barbecue side. If you need to use up some extra basil or just want to try a twist on a classic side, this pesto pasta salad.
Pesto Pasta Salad step by step
Wisk all of the dressing ingredients together in a bowl and set aside..
Boil and drain the pasta according to the package instructions..
While the pasta is still hot, toss the dressing into the pasta. Let it cool down slightly..
Prep your romaine heart and basil. Rinse and dry your romaine, remove the core, and slice..
Roughly chop your basil and mix with your romaine..
Toss the greens, halved cherry tomatoes, and cheeses into your pasta. The warmth of the pasta will slightly wilt the basil and bring out the scent..
…and you're done! You may chill the pasta salad or eat while it's warm!.
This is my favorite pasta salad of the moment. Zesty pesto, mellowed and thickened with a little mayonnaise, makes a lovely sauce. I go all-out green by adding sweet peas to both the pesto sauce and the pasta. Toasted pine nuts add flavor and crunch. And, finally, mozzarella pearls and fresh basil jazz the whole dish up.