Mexican style zucchini. So, inspired by Mexican street corn (which, by the way, is absolutely delicious), I sprinkled a moderate helping of cotija cheese on top of this roasted zucchini. Don't get me wrong: the zucchini is delicious on its own. But the salty crumbly farmers cheese crumbled on top of it gives it an extra zing.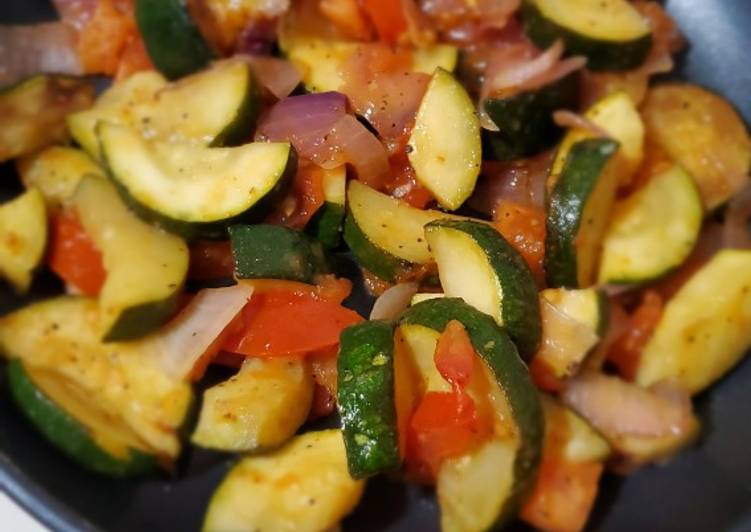 Sprinkle with the cotija cheese to serve. The Best Mexican Zucchini Recipes on Yummly Mexican zucchini boats are low carb, keto friendly, and gluten free! You can cook Mexican style zucchini using 7 ingredients and 8 steps. Here is how you cook it.
Ingredients of Mexican style zucchini
You need 2 of Large zucchinis.
It's 2 of Medium tomatoes.
Prepare 1 of Medium onion.
Prepare 2 of garlics.
You need 1/2 can of corn.
Prepare Pinch of salt.
It's Pinch of black pepper.
These little Mexican style treasures are quick and easy and loaded with flavor! I like to 'Mexican-ise' just about any recipe. There are tons of great zucchini boat recipes out there, but I'm partial to my Mexican version of zucchini boats. They're like little tacos, only wrapped in zucchini.
Mexican style zucchini step by step
In a large pan Heat up some Olive oil in medium heat..
Add diced zucchini and saute for 10 minutes, stirring often.
Add Pinch of black pepper, garlic & onions & continue cooking for another 10 minutes.
Add tomatoes & stir.
.
Add half cup of whole corn kernel..
Stir & let simmer for another 10 minutes or till zucchini is slightly translucent in the center..
Serve & enjoy as main dish or side dish..
Corn and Zucchini Mexican Style Recipe, This recipe could be a side dish or a main dish if you want. It has many variations in Mexico; cooks may add cream and cheese, roasted Poblano pepper strips or diced pork. Heat the oil in a large skillet over medium-high heat. Season with garlic salt, paprika, oregano and cayenne pepper, and continue cooking and stirring until fragrant. A couple of weeks ago I made some Mexican Street Corn and couldn't get enough of the flavor so I wanted to experiment with some other veggies I love.